Meet the Owner: Leanne Rhodes-Robinson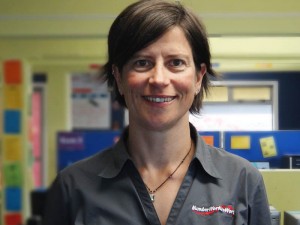 I am the owner of NumberWorks'nWords Tauranga and have been doing this now for 18 years! Before NumberWorks'nWords I was a registered high-school teacher in Lower Hutt for 3 years, and more recently (2010-2012), taught in London, in both primary and secondary schools. I have to say, I much prefer NumberWorks'nWords, where the students are enthusiastic walking through the door, and you as the teacher have the resources and time that you don't have in a school to individualise a programme to each student and their needs. You see incredible progress and that makes students and parents, and me, happy! Outside of NumberWorks'nWords I love mountain-biking and snow-boarding, and do a bit of running for fitness.
Kate Harland is our very qualified and experienced Assistant Manager. She is a registered Primary teacher, and has been teaching for over 20 years in NZ and overseas. Currently, she is the Reading Recovery teacher at a local primary school, here in Tauranga, which complements her work at NumberWorks'nWords. She was the Lead Teacher in maths at her previous school in Taupo, and did 6 years of after-school maths tuition, before relocating to Tauranga. She is passionate about assisting children to learn, and utilising their strengths and intelligence's to be the best that they can be. Kate also loves being in the outdoors, be it tramping, swimming, biking or walking her dog.