Meet the Owner: Mohini Bhan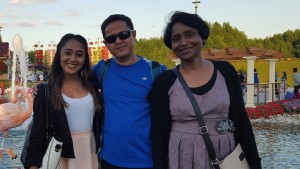 Hi, I'm Mohini - the owner of NumberWorks'nWords Birkenhead. Originally from Fiji, our family of 3 moved here 17 years ago and I have been a secondary school maths teacher ever since in the beautiful city of Tauranga! Being in a classroom for nearly the past 3 decades has been rewarding, but through it all I realise that I've always wanted to take the extra time and go that extra mile outside of the classroom to really see my students flourish. That's where NumberWorks'nWords tempted me into taking this new venture.
I've seen many students throughout the years improve in the classroom through their NumberWorks'nWords tuition and also begun to love learning! I've worked through multiple changes in the NZ Curriculum and believe NumberWorks'nWords have the resources to individualise every student's learning no matter what National Standards will throw at us next!
I'm looking forward to be able to boost my students now with my 28 years of resources and skills under my belt, whether it be for extension work, remedial education, or confidence building. I am passionate for what I do and I intend to ensure all students also walk out that door just as passionate as me about learning!