How to Keep Children Safe Online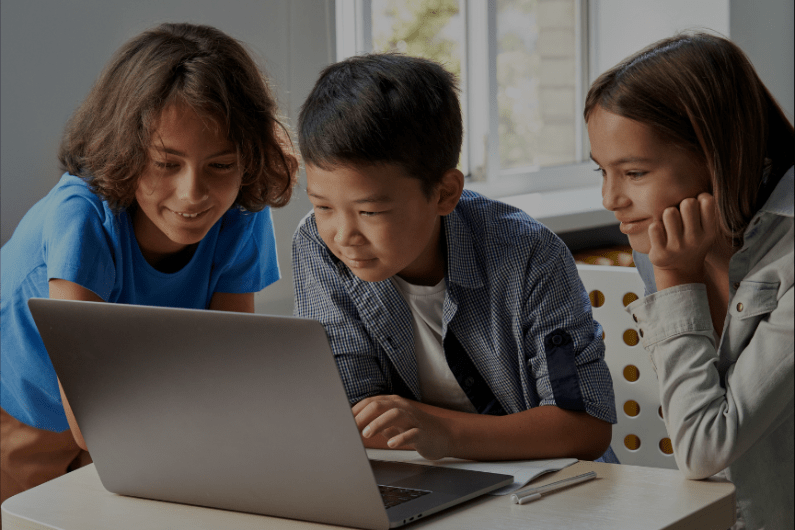 As technology continues to advance, children are spending more time online than ever before. Technology has become an integral part of our daily lives, including our children's learning, and it's difficult to imagine life without it.
However, this increased access to the internet also brings potential risks that can put our children in danger. As a parent, it's crucial to understand these risks and take an active role in protecting your children online.
Getting kids to stay safe online is essential for their success in today's digital world. In this article, we've compiled our top tips for internet safety to help ensure your child's online experience is a positive, safe and secure one.
Set and Discuss Boundaries and Rules
With an endless amount of information, data, and people online, it can seem impossible to protect children from inappropriate content or behaviour. Take some time to discuss this with your child, educate them about online safety, and set some boundaries. Setting strict and appropriate boundaries for your child's internet use can help protect them from harmful content, scams, cyberbullies, and more.
Some Boundaries Could Include:
Setting specific time limits for your child's daily screen time, including time spent on devices like mobile phones, tablets, computers, and gaming consoles.

Establish a rule that your child must seek parental approval before creating new accounts on social media or downloading new apps.

Discuss with your child what types of websites, apps, and online content are suitable for their age.

Setting a minimum age requirement for social media platforms, as many social media sites have age restrictions for registration.

Teaching them to recognise signs of cyberbullying and encourage open communication so they can confide in you if they experience or witness such behaviour.

Teaching your child about the risks associated with downloading files or apps from untrusted sources.
Keeping track of time limits, social media and online content your child is accessing can be challenging. Luckily, there are a number of different tools and apps you can use to help put these limits in place.
Set Up Parental Controls for Younger Children
Protecting children, both online and offline, is at the core of our parental responsibility.
The majority of internet browsers, such as Google Chrome, Firefox, or Safari, allow us to keep our children safe online through the use of parental controls. These built-in parental controls work well as a first layer of protection for children.
Parental controls are specific settings that are available to anyone browsing the web and enable you to easily set up security, family filters, and privacy features. From here, you can filter out inappropriate content, control what your child can access online, and control who views your personal information.
To best protect your children online, you can install a net nanny service on all of your family devices to prevent your children from accessing dangerous or mature content.
Or, another option available for parents to stay safe online are 'child-safe' internet browsers, which reduce the risk of harm to children browsing online. Child-safe browsers are designed specifically for children and filter out inappropriate content, so your child is protected from online bullying.
Browser controls alone may be enough when your children are young. However, as they get older your children can bypass these controls by using other browsers. You also don't have the ability to set time limits via a browser or protect your children when they are using social media.

Utilise Specialised Monitoring and Reporting Tools
As technology evolves, so do the tools available to protect children from inappropriate online behaviour. There are now a number of specialised monitoring and reporting tools you can use to stay informed about your child's online activities and protect them from potential dangers.
These tools can block certain content and set time limits for app usage, as well as help you track your child's online activity and behaviour, including websites visited, streaming services used, and the duration of these online sessions. Google's Family Link App (for Android products and Chromebooks) is free and has many of the essential features needed. However, you may need more sophisticated monitoring for social media and other apps. For an idea of what's available, this article provides a great review of the top apps selected by parents for ease of use, cost and features.
While these tools are not a substitute for open communication with your child, they can serve as additional safeguards on how to keep children safe online. Some monitoring tools also have reporting features, allowing parents to receive alerts or notifications if their child encounters inappropriate content or other potential risks online.
However, it's important to strike a balance between monitoring internet safety and respecting your child's privacy and to use these tools with a focus on education rather than surveillance.

Stay Involved and Interested
As our children grow up, we tend to take a step back and allow them to make their own decisions and gain independence. If your child is at an age where they are old enough to own a mobile phone, you might decide that it's a good opportunity for them to step into adulthood and create their email address, set up social media accounts, or simply use the internet without parental supervision.
However, even when allowing more independence for your children, it is always a good idea to regularly check in with them your and ask them to share what they are doing online. The more you know, the better you can protect your child, so make sure you are aware of who they interact with, what they search for, and what they watch.
Social Media
As social media has become a predominant part of our lives, we are spending more time on our devices. Although social media, such as Facebook or Instagram, can help build relationships and connections, there are potential dangers that come with it. Taking safety measures and having rules in place for online safety will help protect your child.

If your child has social media, make sure you set some rules for them to follow and have a chat about building smart social media habits, which could include:
Not publishing personal information, such as their phone number, home address, and date of birth.

Being mindful about sending messages or interacting with others online.

Be careful about posting content or images because anything posted online stays online.

Not having private conversations with or sending photographs to people they do not know.

Talking about online safety with your children.
Establish Open Dialogue About Online Safety
Establishing an open dialogue about online safety with your children is an important factor in ensuring they will stay safe online. Encourage your children to talk about their online activities and come to you with questions.
Let them know what behaviours and red flags to be aware of and help them feel comfortable approaching you with concerns. Ask questions about their online activity, who they talk to, what games they play, and how they spend their time online.

Keep Screens and Devices Where You Can See Them
Oversight is important for parents who are monitoring their children online. There are simple strategies you can put in place to ensure that you know what your children are doing online, including keeping the family computer in the living room and setting boundaries around where devices can be used, e.g., no iPads in the bedrooms.
Prioritising transparency around how your children spend their time online will also make conversations about online safety easier for your friends and family. If your child is learning at home, have them sit beside you at the table (rather than opposite you), so you can see their screen and monitor their activity.
Protect Your Child's Privacy
In conjunction with other tools and strategies, it is essential to teach your child about online privacy. This means educating children to keep their personal information private and not share it online. Personal information includes their name, location, date of birth, address, school information, and favourite places to spend time (e.g., the local park or mall).
Help your child understand that personal information needs to remain private for security reasons and their safety. Warn against oversharing and sharing passwords, and help your child maintain boundaries between online accounts, messaging apps, online friends, online experiences, and real life.

Practice Online Stranger Danger
Stranger danger is an important topic to educate children about, and in the age of the internet, it is crucial to make sure children exercise caution when talking with strangers online. Help your child understand the risks of talking to strangers online and help them develop discernment when interacting with others on the internet.
Remember, protecting your child online is crucial, and with the right measures in place, your child can safely benefit from the internet's endless possibilities.

At NumberWorks'nWords, we offer a secure and engaging learning environment for children, guided by passionate tutors committed to enhancing their academic performance. If you're interested in learning more about our maths and English tuition, please reach out to your local centre or schedule a free assessment today.
Remember, protecting your child online is crucial, and with the right measures in place, your child can safely benefit from the internet's endless possibilities.