5 Features for the English Program Experience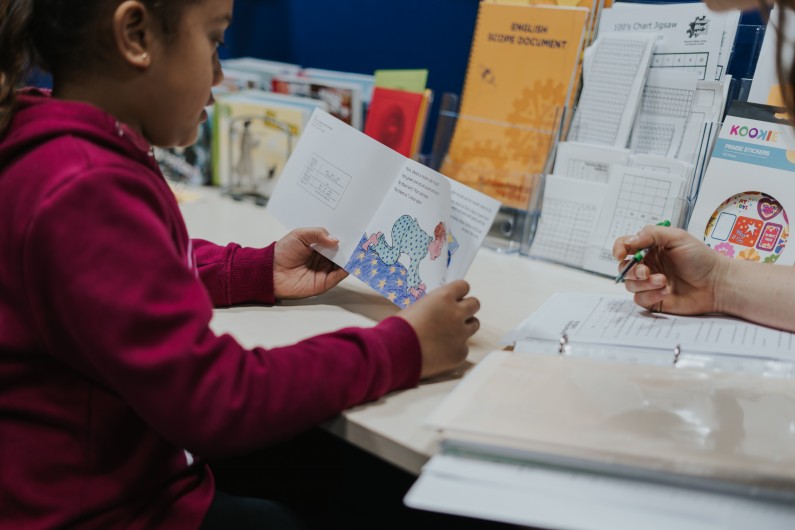 The way each student learns is vastly different, however from supporting thousands of students to learn through the NumberWorks'nWords programs, what they repeatedly respond to and enjoy can often be remarkably similar. With what has been observed and refined over three decades of centre-based tuition and from constant feedback from the professional team of educators who lead the programs across our centres, we have today, an iconic English program that boosts a child's progress in reading, writing, and overall, introduces them to a real joy in learning.
As families today continue to refer to the well-established traditions within a NumberWorks'nWords centre as a signature experience that their children continue to love, we've taken time to list the 5 most iconic ways students experience a love of reading and writing and a boost in their literacy skills to last well beyond the centre.
1. Buddy time
The friendly term refers to the one-on-one time that a student will get with their tutor or centre manager as they work on their individual goals, whether this be reading, writing or any other specific goal, as they move through the content of their specific NumberWorks'nWords English level. Goal specific, individual time on writing skills provides invaluable confidence especially for reluctant writers. There is no doubt that reading together creates a joyful connection to books, and the habit of reading aloud, discussing the story, characters and facts set children on a path to confident reading, comprehension and analysis.
2. A balance between computer-based and in-person learning
Within the centre, a balance is struck between learning that is done on a computer - often with vibrant, interactive elements, and that which is done with books, pencil and paper. Books have been carefully written and illustrated by experts commissioned by NumberWorks'nWords and based on their level which aligns with the school curriculum. Pencil to paper is also used so that students can practice and consolidate the art of crafting their ideas and story writing in the handwritten form as an alternative to using technology alone.
3. Phonetics, spelling and key words
For younger levels of the program, emphasis is placed on phonetics, that is, sounding out words as they are written and read. In addition the Essential Basic Sight Words are included in our program which are the core words most commonly used for reading and writing. Core words are focused on, to develop students' vocabulary as their spelling skill also grows. This has proven to develop children into confident readers, orators and writers.
4. Small rewards and celebratory moments.
When students have a sense of progress and achievement, their confidence can truly soar. From the smallest of details comes an incredible consideration for how to encourage students to continue to strive towards their own education goals.
From program levels that signal leaps in learning (Rocket, Mercury, Venus, Earth, Mars, Jupiter) to the way the tutors and centre staff stand to clap as a student reaches a learning milestone, all of these actions are in place to show care and encouragement. Parents repeatedly describe the positive interactions within the centre, as a main reason for their child to continue to tackle their work with confidence.
While the experience is a rewards-based one, the long term effect is that students gain a sense of control over their learning and a feeling of fulfilment.
5. Time for practising on their own
The world is moving faster and faster and students can quickly absorb these outside pressures. Within the centre, time and space is created so that students have the opportunity to attempt a task on their own, before seeking help. Just knowing that a tutor is on standby to guide them is often just the right balance, to give them confidence to attempt a challenge, to correct a mistake and to then reach an understanding through their own willpower. This persistence builds a bank of grit over time that serves them well beyond the centre and in their everyday lives.
For families wanting to learn more about the iconic ways students learn through the NumberWorks'nWords English program, and the experiences of the popular maths program, you can learn more by speaking to one of our experienced team members today. To start your child's journey with NumberWorks'nWords, get in touch with your local centre, or book a free assessment and introductory lesson today.