Meet the Managers: Monique & Shanti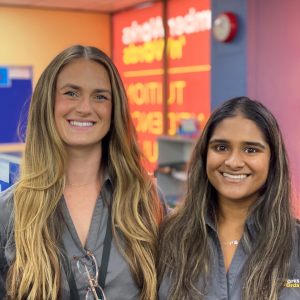 Hi, I'm Monique. I am a qualified teacher with a Bachelor of Education, and my overarching goal is to ensure that your child is excited and enthusiastic about learning. I want to help your child achieve confidence and success with their maths and English, both at school and in life. I grew up on Sydney's Northern Beaches and have experience teaching here in Australia and in London, specialising in intervention teaching and behaviour for learning. When I am not working with children, I enjoy travelling, going to the beach and drinking coffee.
Hi, my name is Shanti; I joined NumberWorks'nWords as a mathematics tutor in 2014. It was here that I discovered my passion for education. I thoroughly enjoy working in an environment that encourages children to build their confidence and help achieve their goals. Every child is unique, and I take pride in ensuring that we create a program that is tailored to each student and their specific learning goals in both maths and English. I love spending my free time travelling and exploring new places and cuisines, and spending time with my family and friends. We welcome you to visit us in-centre today.