How to keep children safe online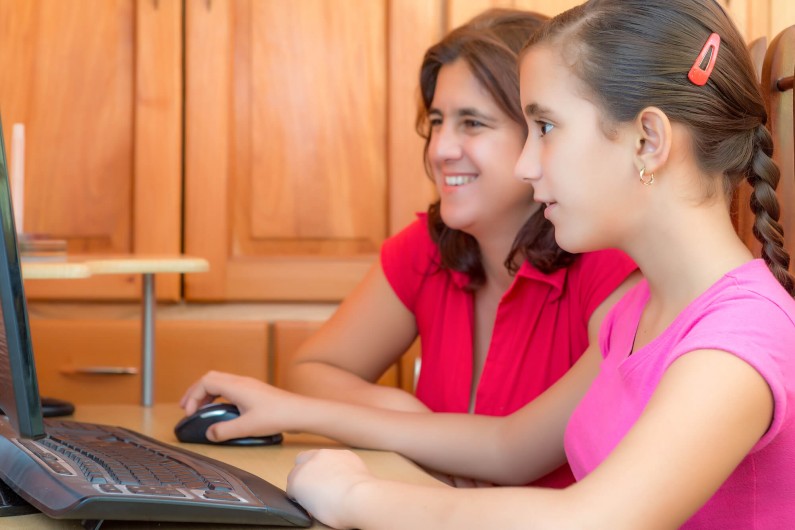 Keeping children safe online is top of mind for many parents. With technology and Internet access at our fingertips at all times, it's important to take an active role in protecting your child online. Since the Internet and digital tools are deeply woven into society and many career paths, online literacy and skills are essential to succeed in life. To make sure your child has every opportunity to flourish as a student and later as a professional, it's important to enable them with technical skills and online expertise. With the help of open conversations about online safety, and the many tools and strategies available to parents, keeping your child safe online can be done with confidence. To keep your children safe online, we have collated some of our best tips for Internet safety.
1. Talk about online safety with your children
Establishing an open dialogue about online safety with your children is an important factor in ensuring they stay safe. Encourage your children to talk about their online activity and come to you with questions. Let them know what behaviours and red flags to be aware of, and help them feel comfortable approaching you with concerns. Ask questions about their online activity, who they talk to, what games they play, and how they spend their time online.
2. Keep screens and devices where you can see them
Oversight is important for parents who are monitoring their children online. There are simple strategies you can put in place to ensure that you know what your children are doing online, including keeping the family computer in the living room, and setting boundaries around where devices can be used, e.g. no iPads in children's bedrooms. Prioritising transparency around how your children spend their time online will also make conversations about online safety easier for your family. If your child is learning at home, have them sit beside you at the table (rather than opposite you), so you can see their screen and monitor their activity.
3. Use parental controls
To best protect your children online, you can install a net nanny service on all of your family devices to prevent your children from accessing dangerous or mature content. Alternatively, you can take advantage of your web browsers parental controls, which allow you to filter the content that is shown by the browser. You can set up security safeguards and content filters to restrict what your child sees online. Another option available for parents is 'child safe' internet browsers, which reduce the risk of harm to children browsing online. Child safe browsers are designed specifically for children and filter out inappropriate content, so your child is protected online.
4. Protect your child's privacy
In conjunction with other tools and strategies, it is essential to teach your child about online privacy. This means educating children to keep their personal information private and not share it online. Personal information includes their name, date of birth, address, school information, and their favourite places to spend time (e.g. the local park or mall). Help your child understand that personal information needs to remain private for security reasons and for their safety. Warn against oversharing, and help your child maintain sharing boundaries online.
5. Practice online stranger danger
Stranger danger is an important topic to educate children about, and in the age of the Internet, it is crucial to exercise caution with strangers online. Help your child understand the risks of talking to strangers online, and help them develop discernment when interacting with others on the Internet. Let your child know it's important that they communicate any concerns or red flags they see online and that you are there to protect them from unsafe behaviour.

Protecting your child online is important for their safety and well-being. Thankfully, with open conversations about online security and staying safe, and utilising the child protection tools that are available to parents, we can protect our children from online dangers. The Internet offers a wealth of learning opportunities and information that help inform and educate children about the world and their specific interests. Making the most of this abundant resource helps children to accelerate their learning and discover new interests and passions. Online learning has become part of life and is an area we need to navigate with prudence. At NumberWorks'nWords, we offer computer-based learning in an engaging and safe environment, led by passionate tutors who are committed to improving learning outcomes for our students. If you would like to learn more about maths and English tutoring with NumberWorks'nWords, get in touch with your local centre, or book a free assessment today.

Posted on 11/05/2021