School Holidays Learning for Children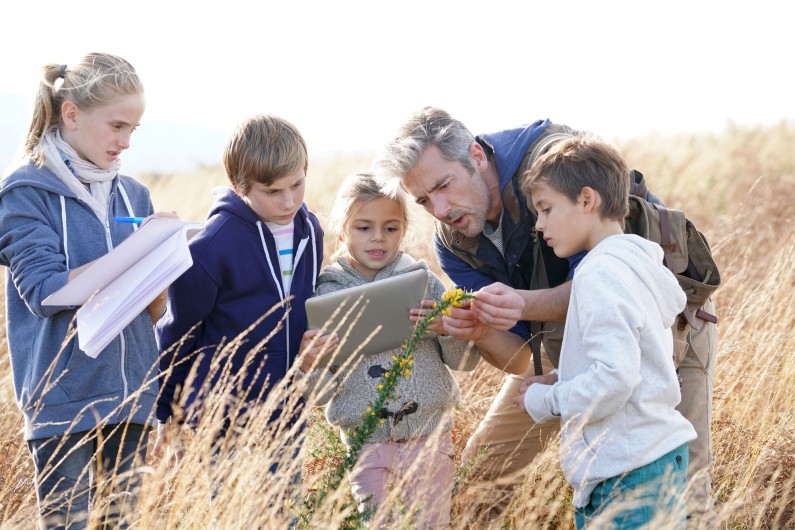 Keeping children busy over the school holidays can be a challenge, especially if you are trying to occupy young ones in productive ways that support continuous learning. School holidays also mark the beginning of freedom and fun, and are an important part of a balanced school year. These breaks offer an ideal time to learn new skills and have hands-on experiences that help to develop young learners. Practical learning opportunities such as learning how to bake, playing new games, or learning how to ride a bike or boogie board can be found during these welcome breaks in the academic year. Read on to discover five educationally rich activities to keep children learning and building confidence during the school holidays.
1. Grow something in the garden
Gardening provides a plethora of learning experiences, and helps children to connect with nature. The experience of seeing flowers or vegetables grow from a seed to something much larger, provides a sense of accomplishment for children, and teaches them valuable life skills that they can build on over time. Watching a tomato plant or potted flower grow into something edible or something beautiful is an amazing experience at any age. If you don't have a garden, consider introducing houseplants to your living space or growing herbs in the kitchen. Start your gardening project early in the holidays, and have your child take responsibility for their plants right throughout the break. You could ignite a lifelong love of gardening!
2. Learn to bake or cook
What's better than warm cookies out of the oven? Baking them yourself and eating the cookie dough along the way! Get your children into the kitchen, and cooking up a storm over the school holidays. Start out by having your children assist you in making some simple recipes that are family favourites, and then up the ante, by creating a game or competition in the kitchen. Set a budget, choose a dish or treat to bake, and then head to the supermarket with a list. Let your child take the lead by finding the ingredients, and paying at the counter. Then it's back home to start cooking! Stay nearby to support and assist along the way, but let your young learner lead the way, and create a scrumptious dish or dessert. Once the meal or baking has been prepared, help them plate the food, and invite the family to enjoy the home-cooked meal. To make it a competition, have each family member rate the meal/baking out of ten, and then repeat the process with each family member taking a turn. At the end of the week, you can crown a winner!
3. Practice a new skill or start a hobby
School holidays are the perfect opportunity to try something new or start a hobby. Make the most of the break in schooling by introducing a new skill or hobby to your child. This could be anything from trying out a new instrument, starting a crafting hobby, learning to code, or learning a new language. Get your children involved in something new that takes them out of their comfort zone or challenges them in an unfamiliar way. Holiday programs also offer learning opportunities and exposure to new hobbies.
4. Give back to the community
With more time on their hands, get your children involved in volunteer work or giving back to the local community. Depending on your child's interests and age, you might consider making cards or crafts for children in hospital, visiting an elderly neighbour for a cup of tea and conversation, or to help with household chores, offer to walk a friend's dog, or volunteer to help a neighbour or family member around the house or garden. Giving back helps children to feel like they are contributing to something larger than themselves, and provides a good feeling that improves their self-image and confidence.
5. Visit museums
Holidays are the perfect opportunity to visit museums. Museums are often free to visit, and are abundant with learning opportunities for children and adults alike. If your child has a particular interest in geology, animals, art, history, or ancient cultures, start at the exhibit that will spark their curiosity and engagement the most. Depending on your child's age, they might be happy to explore for hours on end, taking in interactive displays, uncovering new knowledge, and developing new interests in the world, past and present. Visits to museums also help children to learn and identify new words and concepts that lead to greater understanding of the world around them.
Holidays are also a wonderful chance to spend more time with family and friends, and travel to new places. Not every parent can spend the entire school holidays with their children, so holiday programs are a great option for busy families. Consider spending part of the school holidays learning maths and English at NumberWorks'nWords, to help your child stay on track with their learning, or give them an extra boost before the new school year. Stay tuned for more holiday blogs, and get in touch with your local centre for information about school holiday programs. Our holiday programs provide intensive maths and English lessons to accelerate students who are eager to get ahead, and support those who need extra help or a confidence boost. To learn more about NumberWorks'nWords get in touch, or book a free assessment today.