Holidaying with children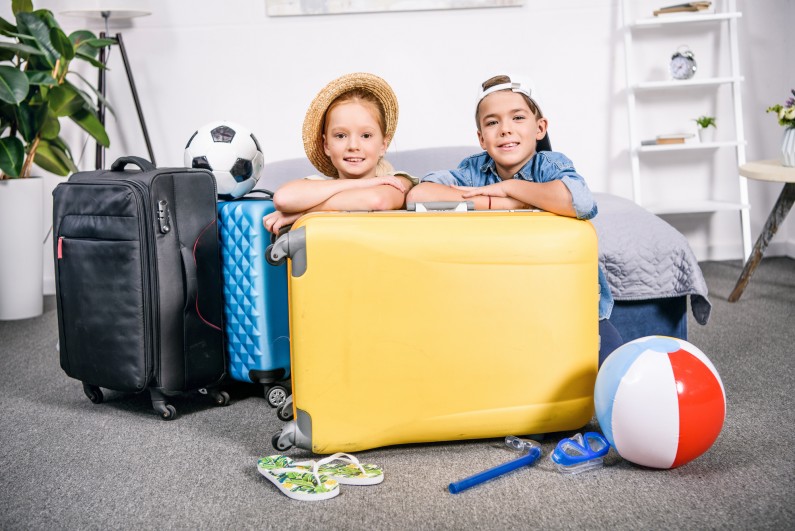 School holidays offer excellent opportunities for family travel. Whether you are travelling to visit extended family, to explore new places, or visiting a family-favourite destination, travelling with children has its challenges, as well as its perks. Creating new memories, sharing experiences, getting lost together, and enjoying downtime as a family are some of the rich experiences that holidaying as a family provides. This blog explores 4 reasons to travel with children during the school holidays.
1. Quality time
During the hustle and bustle of term time, when parents are busy with work and childcare duties, quality time can be skipped over or pushed down the list of family priorities. Although we recognise the importance of quality time as a family unit, it can be hard to fit it in. Between sports games, tutoring lessons, time with friends, and individual hobbies, getting the family together to engage in quality time can be difficult. When the school holidays roll around, we welcome the extra time to spend together. To make the most of the opportunity, it's useful to structure the holidays to include quality time. Planning a family holiday is a great way to optimise shared time off from work and school. Take the opportunity to switch off from work commitments, school and homework duties, and household chores, to embrace the freedom of escaping your day to day responsibilities. With more time together, you will have the opportunity to get to know each other better, discuss things that slip through the cracks during the busyness of life, and have fun experiences that bond your family together as a unit.
2. Life skills
Family holidays offer unique learning opportunities for children. Travel pushes children outside of their comfort zones, allows them to extend themselves, learn new skills, and engage in new experiences. Travel encourages personal growth, builds life experience, and enables children to benefit from larger life lessons that they don't encounter in their daily lives. Life skills and confidence are strengthened during travel, from the planning stages to being on the road. Make the most of the abundant learning opportunities that are available when holidaying with your family! Get your children involved in creating a travel itinerary, researching the destination, creating pack-lists, planning meals, packing their bags, reading maps, and budgeting for the trip. Learning about the costs and logistics involved in travel will help them stay on track with their learning during the break in schooling, and help prevent the summer slide from impacting their academic performance when they return to school.
3. New experiences
New experiences and life skills go hand in hand, and travel offers plenty of opportunities for both. Travel provides the chance to share your interests with your children, and teach them new skills. Family holidays are the perfect opportunity to share new experiences with your child. If you're travelling to another part of your country, encourage your child to make an effort to learn about the destination, history, landmarks, and wildlife in the area. If you are visiting a favourite holiday location where they have been before, spur them on to explore beyond what they have done before, whether that's surfing, fishing, hiking, or something more adventurous.
4. Memories
One of the biggest benefits of holidaying with your children is creating family memories. Children grow up fast, so it's important to prioritise family holidays to look back on and recall the different phases of life as a family unit, and the adventures you shared together. We all remember our special family holidays that left a lasting impression on us as children. Whether it's the trip where your flight was cancelled, you got lost on the road, got upgraded to a posh hotel, camped in the rain, or excelled in an activity like sailing or skiing; these memories will be cherished forever, and shape your child as they move through life. Regardless of whether your holidays are exotic overseas trips or wholesome weekends at the beach, these moments of quality time and adventure have an impact on children and their parents alike. Make the most of the school holidays by scheduling time to travel with your family, and create special memories together.
Holidaying with children is one of the most rewarding ways to spend the school holidays. Not only do children have the opportunity to learn in new ways and have novel experiences, but family holidays also create memories that you will look back on fondly in the years to come. It's essential to keep children learning over the holidays, and travel is a great way to do that. If your child needs a learning boost before returning to school, enrol them in a NumberWorks'nWords holiday program, to get them up to speed. Our holiday programs include intensive lessons with specialised maths and English tutors and individualised learning programs to support the learning goals of each student. NumberWorks'nWords holiday programs combine fun with learning, in a supportive environment that builds confidence and delivers results. Contact your local centre to enquire about holiday programs for your child, or get in touch to learn more.