Back to school checklist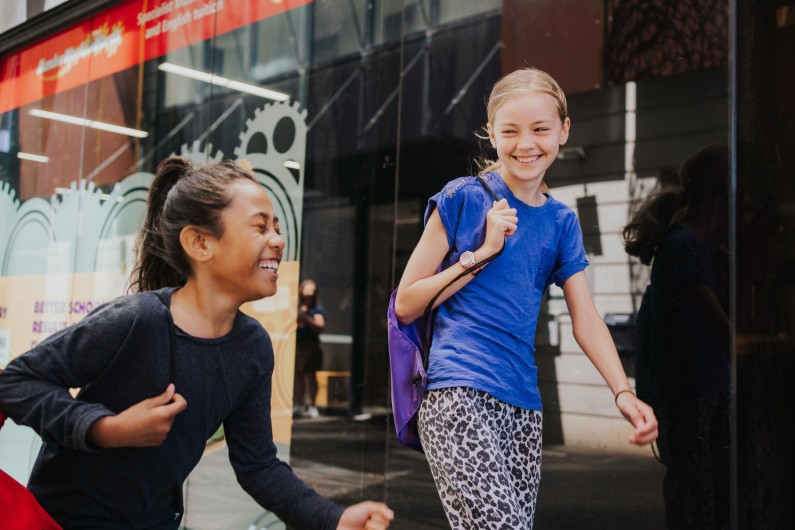 With the new school year fast approaching, it's time to start thinking about getting ready for the return to school. After a long break from classes and our term-time routines, returning to school can take some adjustment, and a little preparation goes a long way! To help students start the year strong, return to school with confidence, and support parents during this busy time, we have prepared a back to school checklist. This blog outlines the essentials to help your child return to school with ease and establish healthy routines for the new school year. Whether your child is starting a new school or new school year, these tips will help with the transition from holidays back to school.
Sleep schedule & night time routine
When it comes to starting the school year strong, the first thing to get right is sleep. Children need ample sleep to focus on learning and respond well to routine. A week or two before school starts, re-introduce their term-time sleep schedule and night time routines. Getting back into the habit of early nights will ease the transition to early wake-up times when school starts again for the year. This is also a good opportunity to create healthy night time routines, that support and nurture your children, and prime them for a successful day ahead. Night time routines for school students might include preparing their clothes and shoes for the morning, packing their bags, reading a book, and reflecting on their day.
Promote healthy eating habits to fuel thinking
During the holidays, our normal routines are cast aside, and often, so are our eating habits. With more time at home, you might have had more time to cook or bake, or if you have been travelling, you may have been eating out or enjoying more picnics and BBQs. As we approach the return to school, it's important to start planning healthy family meals and school lunch boxes.
When considering what to include in your child's lunch box, think about:
The healthfulness of the food
Whether the foods are low or high GI and will provide sustained energy
Whether your child will eat the food
What restrictions the school has for lunch box items (if any)
How easy it will be for you and your child to prepare the food every day
Shop for stationery and school supplies
In 2021, school supplies are quite different than they were a generation ago. Many schools now require each student to use a device for their learning, such as a tablet or laptop. In addition to the normal school supplies like stationery, art equipment, book bags, and exercise books, you may need to purchase a device for your child too.
Make shopping for school supplies fun by letting your child decorate their books with artwork and stickers, to get them excited about using their new stationery and starting the new school year.
New uniforms & shoes
Wrangling children in clothing stores come with its challenges, but sorting school uniforms or clothes early will avoid last-minute stress before school starts. If your child will be wearing a school uniform, find out where the stockists are and time your shopping trip to avoid large crowds. If your child doesn't require a uniform, have them go through their wardrobe to find school appropriate clothing that they can wear. You might notice that they need new garments, so be sure to get this shopping done ahead of the start of term too.
Once you have their clothing sorted, have them choose their outfits for the first week of school, and organise them in their draws for easy access during the mad rush of the first week back. This is also a good time to check that all clothing items are labelled with their name, especially those expensive uniform pieces that are likely to go missing at PE or swimming lessons.
Start thinking about extracurriculars
In the lead up to the new school year, you might start considering what extracurriculars your child is interested in for the year ahead. Start having conversations and planting ideas about what might be fun or beneficial for them. Maybe they have been playing Singstar all holidays, and would be interested in learning an instrument, joining a choir, or starting singing lessons. Perhaps they have been practising their ball skills and are keen to join a sports team. You may have noticed a decline in their learning retention or agility, and consider tutoring for term one. Encourage your child to take the lead and choose extracurricular activities that they will enjoy.
Organise before and after school care & transport to school
For many parents, the return to school means returning to work, and the return of busy schedules that working parents juggle. If your child will be attending before or after school care, now is a good time to enrol them, or organise alternative care. It's also important to organise transport to school. If your child is catching the bus or train alone for the first time, have them practise catching public transport with you. If they will be walking to school, practise walking the route to work out timings and distance, to avoid mishaps in the first week.

The return to school is an exciting time that is brimming with possibilities and anticipation. Be sure to support your child during this transition period by helping them prepare for the new school year. If your child needs a boost to get up to speed, get in touch with the team at NumberWorks'nWords. We offer personalised maths and English tutoring to support students at all levels. What are your best tips to get ready for the new school year? Let us know in the comments below!

Posted on 19/01/2021